William Arthur Lee
Teacher, Inventor, Tomato Farmer, Electronics Engineer, Civil Engineer, Husband, Father, Grandfather and Great-Grandfather
16 May 1925 - 2 April 2008
William Arthur Lee was born in Tacoma, Washington on May 16, 1925 at his parents home located in the Proctor Street District of the city at 4012 North 24th Street. William was the youngest child of Robert E. Fletcher and Virginia Causey Reynolds Lee. He was the younger brother to Robert E. Lee and John Howard Lee. He lived in Tacoma, most of his early life, except for a brief time when the family moved to Portland, Oregon, when his father accepted a retail sales position with the historic Olds Wortman & King Department Store, located in downtown Portland.
The family returned to Tacoma and the north end of the city to live, and summer at Spanaway Lake. Young William started his schooling at Lowell Elementary School in Tacoma. In the mid 1930's, the Lee family moved to the shores of Spanaway Lake on to a piece of ground that was originally owned by Virginia's paternal Aunt, Dr. Annie E. Reynolds. Dr. Reynolds was one of a few, women doctors practicing in Tacoma, in the early 1900's.
Life on the shores of Spanaway Lake would begin in a cabin and later in a house built closer to what would later become, current day, Spanaway Loop Road. For it was for William's Mothers fears, that a tree would land on the cabin during one of the area's known windstorms, destroying the cabin and possibly doing harm to her family. This omen did become factual, many decades after they sold the lake property.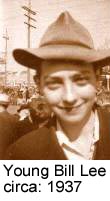 William continued his schooling and graduated from the old Spanaway School. He then continued his education at Stewart Jr. High and graduation from Lincoln High School in Tacoma in the year of 1943. Because of tight economic times with the Lee family, Bill and his brothers would create or take on means for extra family income. Bill's longtime childhood and best friend, Stan Kubista, would meet & work for Byron C. "Curly" Turner at Curly's electrical and motor shop. The shop was located next to the Turner family home in Parkland. This is where Bill would meet and later marry, Curly's and Amy's daughter, Betty Jean Turner. His friendship with Curly and Amy would continue many years till the Turner's passing. As they always treated him as a son of their own.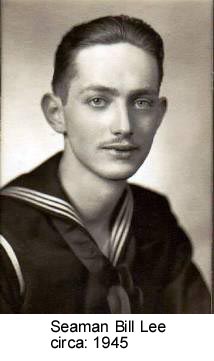 On August 4th 1943, Bill was called to duty for his country. Bill was recruited by the Army Air Forces, as a mechanic learner, but opted to join the U.S. Navy. His knowledge of electrical and mechanical skill, made him a candidate to work on very "early high tech" and secretive, naval computers of the time. Upon completion of his original military obligation, he was recruited by the Navy to complete his education in officer training. With this offer in mind, his "land loving legs" helped him make the decision to return to civilian life and return to family life in Spanaway.
Bill would once again find employment and work with Curly at the Chars. B. Roger Company in downtown Tacoma. He also would later become a civil engineer at McChord Field, now known as McChord Air Force Base.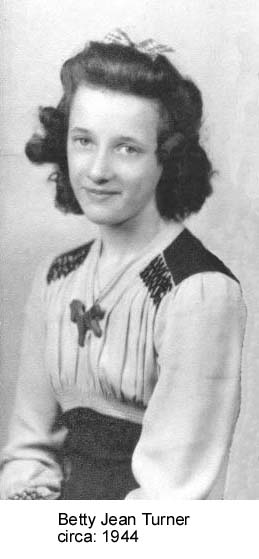 On July 12th, 1947, Bill married the very young, Miss Betty Jean Turner, of Parkland. The new home would be at Spanaway Lake, at the early lake cabin of his parents. In 1948 the young couple moved to Puyallup while Bill obtained employment at Puyallup Radio Clinic (which would later become Puyallup Radio & Electric). The house would be furnished with all the latest appliances and televisions. That is only if the appliances were discounted, dented, leaked, or were "trade ins" for new appliances. In late spring of 1949, their first son, William A. Lee was born. In 1953, they purchased their first and only Puyallup home at 1727 Tacoma Road. In late spring of 1954, their second son, Stanley Robert Lee arrived on the scene.
Bill would later find employment at C & G Electronics in Tacoma and to teach night classes at Tacoma Vocational Tech in downtown Tacoma for about seven years. Later he would work for M.K. Widdekind Company in Seattle. In the mid 1960's he would open his own business, Industrial Electronic Systems. After this business failed in the mid 1970's he returned to the Tacoma School District to teach at a satellite campus of Bates Vocational at North Fort Lewis, WA. His classes later would be moved to the downtown Tacoma campus where he retired from teaching in 1992.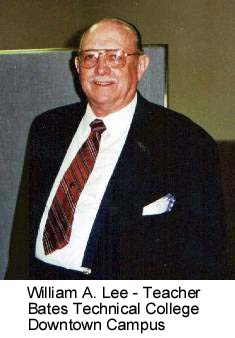 Bill and Betty's marriage became a victim of life's major bumps, by 1969. They separated in the early seventies and were divorced by early summer of 1972. By this time, Betty had moved to Gig Harbor, WA. with her son, Stan. Bill would move from Puyallup back to the Tacoma area.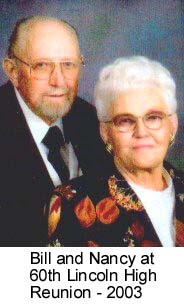 On May 17, 1973, Bill would once again marry. In a quiet ceremony in the picturesque, rural town of Roy, WA, he was joined in matrimony with Nancy Lee Nichols. This marriage would last just under 35 years, until his death. Bill gained a second family by marriage. He would become looked upon as "Dad" to Nancy's daughter's; Teddie, Vicky, and Becky, and to Nancy's son, Scott. Shortly after Bill and Nancy's marriage, they bought property in the Gig Harbor area and moved from Tacoma. Bill immediately started vegetable gardening, which he enjoyed from his time living in Puyallup. He and Nancy joined the Gig Harbor Grange.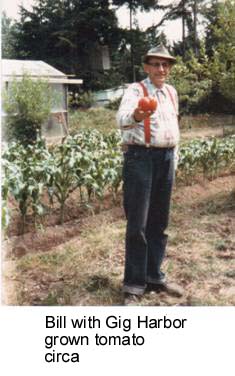 He was a proud member of IBEW 76 Union (International Brotherhood of Electrical Works, N0. 76) in Tacoma, for over 60 years.
Bill would be remembered for his willing to teach, to share stories, and share his conversation. His expertise to fix anything electrical or mechanical on a budget using miscellaneous scrap parts, not to mention his collection of such "scrap parts". His ability to "invent" when even the project was not too successful. And he will always be remembered for those mighty, tomato plants and their big red fruit. (Written by Stan R. Lee, 18 April 2008)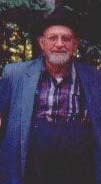 (Photographs courtesy of Stan R. Lee)
Obituary
William A. Lee
William A."Bill" Lee Born on May 16, 1925 in Tacoma; died on April 2. He is survived by Nancy Lee his wife, six children, 14 grandchildren, and 21 great-grandchildren. Memorial to be held at 1:00 pm Saturday, April 26, 2008 at Bethel Grange Hall, 5998 Bethel Road SE, Port Orchard. Please view memorial page at www.ourfamilystories.com




Published in the News Tribune (Tacoma) on 4/20/2008.
The information on this web site is for your personal use only. All pages, compilations, transcriptions and abstracts are protected by copyright law and may not be copied in whole or in part and published or distributed in any manner without written consent of the author, contributor and/or webmaster.
Message from OurFamilyStories.com: The information and data provided in this website, that hasn't been identified as belonging to others, is to be used for personal NON-COMMERCIAL purposes only. It is not to be reproduced in any form for commercial or profit purposes without the express written permission of OurFamilyStories.com.
Copyright ©1995, 2008. OurFamilyStories.com. All Rights Reserved.
Your comments & suggestions are always welcome.
Last Updated 19 April 2008