Frances "Louisa" Relyea ( 1838 - 1884 )

Frances Louisa Relyea was born sometime around 1838 or 1839, somewhere in New York state possibly in the region of Ulster county or New York City.1 The area was settled by the Dutch and French Huguenots in the seventeenth century. She went by her middle-name Louisa. Her family was poor since her father had died sometime before or during 1851.




Louisa Travels to the Pacific Northwest in the 1850's



According to research by Ed Bartlett of Vancouver, Washington, on 14 August 1851, Mary Elizabeth Relyea ( Birth: 14 Jun 1835 – New York2 Death: 26 Jun 1915 -- Yacolt, Clark, Washington ) became an indentured servant to Simpson P. Moses (lawyer). She was needed to assist his pregnant wife, Lizzie with their young son, Montague. They were preparing for a journey by ship to their new home in Olympia, Oregon Territory. Mr. Simpson had made arrangements with Mary's mother, Louisa Ann Relyea. Mrs. Relyea's husband had died and left the family destitute. It was common in New York for poor families to sell their children into servitude under " "An act concerning apprentices & servants" which was passed by the New York State Legislature on February 20, 1801 and is found in Laws of New York 1801, Chapter 254. Under this Act, a person could be bound by Indenture by his, or her, own free will, with the consent of a parent or guardian, by Justices or Overseers of the Poor to serve as clerks, apprentices or servants."3

In May 1851, Simpson P. Moses of Ohio, a veteran of the Mexican War, had been named Collector - District of Puget Sound, by President Fillmore. Congress created the Puget Sound collection district and established Olympia as its port of entry on February 14, 1851.4

Simpson P. Moses, his wife and child, Mary Relyea, and her younger sister Louisa boarded the Steamship Prometheus in New York City, bound for Nicaragua on 14 August 1851 in route to Olympia, Oregon Territory via Nicaragua and San Francisco, California.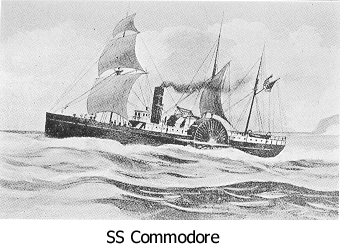 "The SS Prometheus was a wooden side-wheeled steamer, built by Jeremiah Simonson, New York, for Cornelius Vanderbilt. Launched August 3, 1850, she went into service on December 26, 1850, on the New York - San Juan de Nicaragua run." The picture is an illustration of the SS Commodore, a ship similar to the SS Prometheus and is offered as an example of the type of steamships that were becoming popular for ocean trips.5 The steam engine had become much more dependable, but ocean-going ships still had mast and sails to provide passengers with a sense of security.

Upon landing in Nicaragua, the Vanderbilt company, "Accessory Transit Company" transported freight and passengers from Greytown up the San Juan River, across
Lake Nicaragua, then overland to San Juan del Sur.

"On September 17, 1851, the Moses party with Mary and Louisa Relyea arrived in San Francisco, California aboard the Vanderbilt ship the SS Independence, Captain Edgar L. Wakeman, from San Juan del Sur."6

"The Steamship Independence was a wooden side-wheel steamer, 2 decks, 2 masts, 613 tons, 211.6 feet, built by William H. Brown, New York, for Cornelius Vanderbilt. Launched on December 25, 1850, she sailed from New York for San Francisco on January 13, 1851."7

On 24 October 1851, the Moses party left San Francisco for their final Olympia destination on the brig George Emery captained by Lafayette Balch.11 Captain Balch had established the Port of Steilacoom earlier in 1850. He supplied settlers with goods from San Francisco and sold lumber and produce from Puget Sound in San Francisco. "The brig George Emery, on which Collector Moses and his family were passengers, entered the Strait of [Juan de] Fuca on 9 November 1851."13
On 10 November, Collector Moses arrived at Port Townsend, and took the oath of office before Henry C. Wilson, Esq., a justice of the peace of Lewis county12, and arrived, November 15th, at the port of entry.
"On 10 January 1851, Captain Lafayette Balch, in the brig George Emery, about inaugurating a regular trade between San Francisco and Puget Sound, took the claim at Lower Steilacoom, dedicating it as a townsite, conferring upon it the name of Port Steilacoom, after the name of the creek immediately northward of the tract (the creek upon which shortly afterwards was erected the mill of Thomas M. Chambers)."8
The Washington Territory was established by U.S. President Millard Fillmore on March 2, 1853. According to the 1870 Census for Washington DC (Ancestry.com Washington DC Ward 2, image 64 of 467) two children (Fannie and Kate) were born to the Moses' in the Washington Territory. The Moses' moved to Washington DC before 1856, where they would remain.
Mary Relyea Married

"Justice of the Peace, Dr. David S. Maynard (1808-1873) married John Bradley and Mary Relyea of Steilacoom on November 19, 1852."9
John and Mary Bradley had four children: J. W. , Jane Elizabeth, John P. and C. E. Bradley.
John and Mary separated in 1864. Mary meet Alexander Rhinehardt Heisen and they left the area for Clark county, Washington, north-northeast of Vancouver in an area that would become known as Heisson. They married 28 June 1864. Alexander and Mary had eight children: Wilhemina Henrietta, Henry Rhinehardt, Theodora Concordia Ferdinanda, Clotilda Amalia, Franz Alexander Charles, Adelia J., Walter Bell and Thelma Josephine Heisen.
Frances Louisa Relyea Married

Frederick Meyer married Frances Louisa Relyea on July 10, 1853 in the home of her older sister, Mary (Mrs. John Bradley). Frances Louisa was a French-Huguenots girl of very dark complexion, dark hair and dark eyes, age about fourteen. They took up a Donation Land Claim of 320 acres. About 1870 (or later) Frederick took up an 80 acre Homestead Claim near the 320 acres, and they lived on this land until 1879. In 1879, Frances Louisa left Frederick for Phillip Hanselman.
Frederick and Frances Louisa were parents of 11 children, namely: Wilhelmina Mary, Sophia Ann, Catherine Louise, Frederick Augustus, Rose, Ellen, William J., Henry, George A., Martha and Daisy. The two youngest children Martha and Daisy were admitted by Frances Louisa to be the children of Phillip Hanselman.

The 1880 Divorce Decree issued by Judge Hensel, on grounds of desertion and unfaithfulness by Frances Louisa, gave Frederick custody of the four minor children, namely: Ellen, William, Henry and George. The decree also freed him from custody and care of the two minor children Martha and Daisy, taken from him by his wife.10
The truth may be that Frederick began spending much to much time in the business of maintaining and operating the Chamber's mills after Thomas M. Chamber's became ill years earlier and later died in December 1876. Frances looked elsewhere for companionship and found it with her neighbor, Phillip Hanselman.
Louise Hanselman
Phillip and Louisa moved to an area north of the mouth of the Columbia River at Ilwaco, Pacific, Washington with Martha and Daisy. They had two additional children, Christian and Mary. In 1884 Louise Hanselman died and was buried in Ilwaco Cemetery, Ilwaco, Pacific, Washington. Phillip Hanselman, a widower and two children, Christian (age 19) and Mary (age 17) are listed in the 1900 Federal Census of Ilwaco, Pacific, Washington. Chris Hanselman continued to live in this area and raised a family of his own (see 1920 and 1930 Federal Census.) Chris and Phillip are buried in the Ilwaco Cemetery, Ilwaco, Pacific, Washington.

Donation Land Claims (DLC)

"In September 1850 Congress passed the Donation Land Claim Act that granted land to "certain white settlers and Indians of mixed blood" who emigrated to Oregon between December 1850 and December1853 and agreed to stay on the land for four years. The number of acres granted depended on marital status: 640 acres to a married couple, 160 acres to a single white male over the age of 21, and 320 acres to a single male who married one year after arrival (with half going to his wife)."

http://www.ccrh.org/comm/cottage/primary/claim.htm


Donation Land Claims:

BRADLEY, JOHN: NE COR SE-26-20-02E, NW COR SE-26-20-02E, SE COR NE-35-30- 02E, SW COR NW-35-20-02E

BROWN, GEORGE: NE COR NW-31-19-04E, NW COR NE-36-19-03E,
SE COR NW-06-18-04E, SW COR NE-01-18-03E

MEYER, F.: SE COR SW-30-19-04E, NE COR NW-30-19-04E,
NW COR NW-25-19-03E, SE COR SE-25-19-03E,
SW COR SW-25-19-03E
HEISON: NE&NW COR SE-13-20-02E, SE&SW COR SE-24-20-02E,
SE COR NE-24-20-02E
http://www.co.pierce.wa.us/xml/abtus/ourorg/at/donland.pdf

CREATION OF PIERCE COUNTY:

On Dec. 22, 1852, the Territorial Legislature of Oregon created the County of Pierce out of Thurston County. The Legislature also passed laws appointing the first county officers and locating the county seat at Steilacoom. The first Board of County Commissioners consisted of Thomas Chambers, William P. Dougherty and Alexander Smith. John Bradley was appointed sheriff and John M. Chapman, probate clerk.

http://www.co.pierce.wa.us/abtus/profile.htm#creation


References:
1. The 1860 census of Pierce County indicates that Louisa was born in New York.
2. The 1860 census of Pierce County indicates that Mary was born in New Jersey.
3. Delaware County Clerk's Office, P.O. Box 426, Delhi, NY 13753.
http://www.dcnyhistory.org/indent.html
4. Bork, Janine M., History of the Pacific Northwest Oregon and Washington 1889,
Volume I, 2003, p. 343. http://www.usgennet.org/usa/or/county/union1/1889vol1/1889volumeIpage333-349.htm
5. The Maritime Heritage Project, http://www.maritimeheritage.org/ships/ss.html
6. The Maritime Heritage Project, http://www.maritimeheritage.org/PassLists/in091751.html
7. The Maritime Heritage Project, http://www.maritimeheritage.org/ships/ss.html
8. Bork, Janine M., History of the Pacific Northwest Oregon and Washington 1889,
Volume I, 2003, p. 343. http://www.usgennet.org/usa/or/county/union1/1889vol1/1889volumeIpage333-349.htm
9. Clarence Bagley, History of Seattle (Chicago: S.J. Clarke Publishing Co., 1916); Bagley
History of King County, Washington (Chicago: S.J. Clarke Publishing Co., 1929); Gordon
Newell, Westward to Alki (Seattle: Superior Publishing, 1977); The Columbian, November
27, 1852, p. 3. http://www.historylink.org/_output.CFM?file_ID=2027
10. Information was obtained from Stan Greenlaw, July 5, 1996.
11. Bancroft, Hubert. H., The Works of Hubert Howe Bancroft, Vol. 31, "History of
Washington", The History Company, Publishers, San Francisco, 1888, pg.54
12. Ibid.,pg.54.
13. Bork, Janine M., History of the Pacific Northwest Oregon and Washington 1889,
Volume I, 2003, p. 343. http://www.usgennet.org/usa/or/county/union1/1889vol1/1889volumeIpage333-349.htm
Research Notes: A Work in Progress

The ancestry/genealogy research for Frances Louisa Relyea is still incomplete. Her father's name, additional children, date/place of birth and date/place of death have not been determined. The following information has been compiled from various internet sites. If you can provide further information concerning France Louisa Relyea, please contact OurFamilyStories.com.