Wilhelmina Mary Meyer Greenlaw: Farmer's Wife, Mother of Ten, Widow and Family Matriarch
September 10, 1854 - October 18, 1913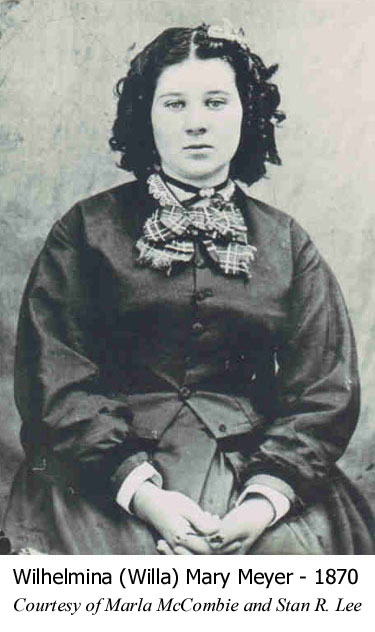 Wilhelmina ( Willa ) Mary Meyer was the first born of Frederick Meyer and Frances Louise Relyea. She was born on September 10, 1854 just outside the town of Steilacoom in the Washington Territory. She had a light complexion, blue eyes and golden hair that darkened in her later years.
Willa and Amos Greenlaw married on March 16, 1870. Willa started marriage caring for Amos's six year old daughter, Charlotte. Amos and Willa had ten children, four girls and six boys; Mary (1871), Lustrous (1873), Nettie (1877), Amos (1879), Ruby (1882), Leonard (1885), Loren (1888), Cyrus (1890), John (1893) and Minnie (1895).
The last child, Minnie was born on September 10, 1895. Amos died a little more than three and one half months later on December 29, 1895.
Willa would manage the farm and raise their children until her death on October 18, 1913. She was buried next to Amos in the Steilacoom Masonic Cemetery.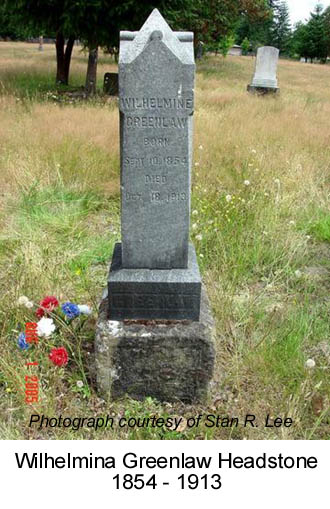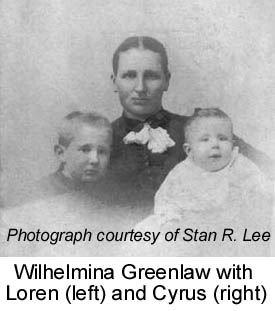 Greenlaw Homestead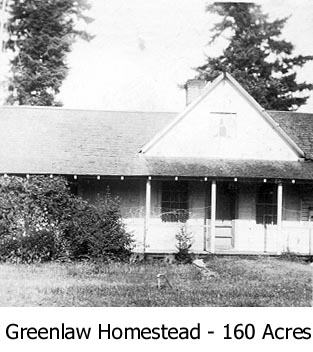 The Greenlaw homestead was located in Spanaway on section 31, township 19, range 4. The land was 160 acres of the George Brown "donation land claim". About 25 acres were under cultivation, while most of the land remained in timber and pasture.

Loren Greenlaw would buy out his brothers' and sisters' shares of the homestead in 1923.
Boeing Aircraft Company has taken over most of the area of the old farm.

Photograph of Greenlaw Farm -Frederickson (Courtesy of James Clark and Stan R. Lee)
The information on this page was obtained from Stan and Phyllis Greenlaw, July 5, 1996.

The information on this web site is for your personal use only. All pages, compilations, transcriptions and abstracts are protected by copyright law and may not be copied in whole or in part and published or distributed in any manner without written consent of the author, contributor and/or webmaster.
Message from OurFamilyStories.com: The information and data provided in this website, that hasn't been identified as belonging to others, is to be used for personal NON-COMMERCIAL purposes only. It is not to be reproduced in any form for commercial or profit purposes without the express written permission of OurFamilyStories.com.
Copyright ©1995, 2004. OurFamilyStories.com. All Rights Reserved.
Your comments & suggestions are always welcome.
Last Updated 22 October 2004