Patricia Ann Burch Hanson
Licensed Professional Engineer, Civil Engineer, Wife and Mother
11 May 1947 - 5 March 2008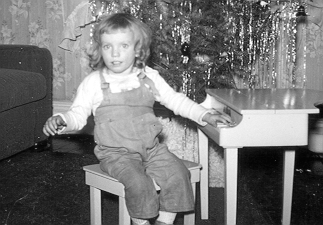 Pat was born on Mother's Day, 11 May 1947 at Josephine Heitkamp Hospital (now Incarnate Word Hospital on the south campus of Saint Louis University School of Medicine), Saint Louis City, Missouri to John Dickerson Burch and Mary Stella Dedic with christening at the family's parish of Saint George's Catholic Church, Saint Louis, Missouri.
She grew up in the Saint John the Baptist Catholic Church parish. Her father became very ill and died on her mother's birthday on 17 January 1962. The family moved several times ending up in south Saint Louis county and Pat graduated from Mehlville Senior High School in 1965. She attended Fontbonne University as a math major and then she went to Forest Park Community College, which was still using Roosevelt High School for classes.
While studying at Forest Park, she worked for the Army Corps of Engineers Saint Louis District in the soils section where she became interested in engineering. She transferred to study Civil Engineering at the University of Missouri - Rolla (UMR) from 1967 to 1969 and then returning in 1973 to 1974 to complete her degree. She graduated with a B.S. in Civil Engineering on 12 May 1974.
She enjoyed playing piano and baking. Pat was a Junior Cook contestant in the Pillsbury Bake-Off in Saint Louis and over many years she developed great recipes for pies, cakes and cookies. Pat and her mother worked together to developed award winning cherry pie and oatmeal cookies recipes. One of Pat's engineering instructors noted that you can take a women out of the kitchen, but you can't take the kitchen out of the women. During a test, Pat had trouble remembering the term "design mix" for concrete, so she put down her answer instead as "recipe". She got full credit.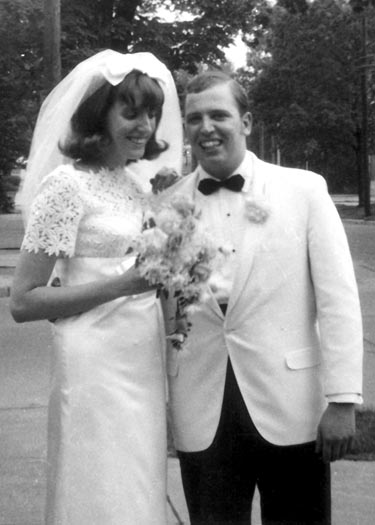 Pat married James Richard Hanson on 24 May 1969 at Rolla, Missouri. She worked for the Missouri Highway Department in Kirkwood, Missouri until the birth of her daughter. Pat and James had two children, Stephany (1970) and James (Jay) (1972). Shortly after Jay's birth, Pat resumed her employment with the Army Corps of Engineers Saint Louis District in order to save up money for tuition. She took several classes at Washington University in Saint Louis. Both Pat and James returned to UMR in August 1973 to complete their respective degrees with two children in-tow, often passing off Jay between classes from the back of their bicycles.
After graduation, Pat started working towards her Masters Degree and James continued his pursuit of a chemistry degree. As money got tight, Pat entered an internship with the Federal Highway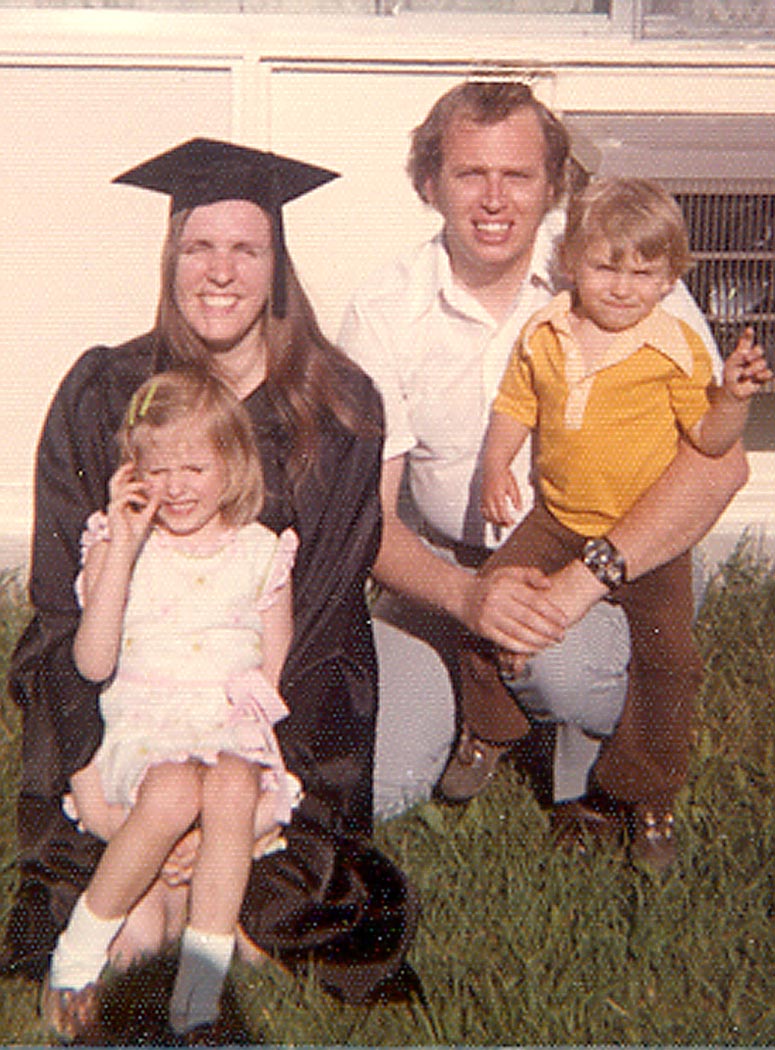 Administration (FHWA) and her family moved to Jefferson City, Missouri and she started work on I-70 interchanges. James traveled daily between Jeff City and Rolla for his final semester. After James' graduation, the family moved to Pat's next duty station in Vancouver, Washington where she worked on the approach of the I-205 bridge on the Washington side. Her next duty station was to be Atlanta after a year, but the FHWA wanted her to move to Washington D.C. to complete her internship. She enjoyed Washington and Oregon and decided to look for employment in the Portland, Oregon area. She transferred to the Army Corps of Engineers Portland District in 1976.
James didn't find employment as a chemist in the Portland area, but had two job offers one in Kansas City, Missouri and the other in Shelton, Washington. James' oldest brother and sister-in-law and his mother lived in Shelton. The family moved to Shelton and Pat found employment with the US Forest Service in the Olympic National Forest working with the Forest Service labs at North Fort Lewis and then their computer systems in Olympia, Washington. When James' job moved to Port Angeles, Washington, Pat moved with her family and worked with James' employer documenting the pulp mill's computer systems.
During the summer of 1984, the family visited the Jacksonville, Florida area while James was temporarily working at a pulp mill in Fernandina, Florida. James found employment with a chemical supplier to the pulp and paper industry and the family moved to Jacksonville in October 1984. Pat got a job with the US Navy, but soon found an opening with the Army Corps of Engineers Jacksonville District where she was employed at the time of her death as Operations Manager. She became a Licensed Professional Engineer in 1986 and an expert in dredging to keep waterways open for commercial navigation in the States of Florida, Georgia and South Carolina.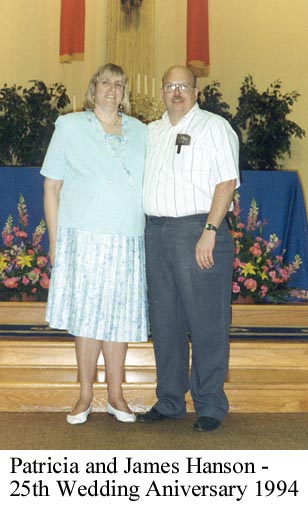 Pat became ill with pneumonia after a trip to Saint Louis near the end of July 2007. After several weeks of treatment with no improvement, she was admitted to the hospital but was sent home for the Labor Day holiday. She was hospitalized again on Labor Day, September 3rd 2007. She had her spleen removed on September 7th. She started chemotherapy in October 2007. Pat's doctors tried seven sections using R-CHOP, R-ESHAP and finally R-ICE chemotherapy regimes, but her tumors continued to grow. Pat died 5 March 2008 at Saint Luke's Hospital Jacksonville, Florida from complications associated with lymphoma.
Pat was cremated and a memorial mass was held for her at her family's parish, Christ the King Catholic Church in Jacksonville, Florida on Monday, 10 March 2008. The family will arrange a memorial mass at Saint George's Catholic Church, Saint Louis and her remains will be buried near her mother and father in Resurrection Cemetery, Saint Louis, Missouri.
Patricia Ann Burch Hanson Obit:
Patricia Ann Burch Hanson died March 5, 2008 after a six month illness. She is survived by her loving husband James, their two children and their spouses, Stephany and Alan Dawson and James and Paige Hanson. She is also survived by her brother Dr. Phillip Burch, Aunts Grace and Gene Dedic, and her Aunt and Uncle Flora and William Burch, brothers and sisters-in-law Larry and Carole Hanson, Fred and Melody Hanson, and Robert and Lillian Hanson. She is also survived by many loved cousins, nieces and nephews.
Pat worked for the Army Corps of Engineers for more than 30 years. She was a licensed Professional Engineer. She was very active in the Christ the King Catholic Church, Jacksonville, Florida and served on their council, performed as a lector and as a Eucharistic Minister.
A memorial service will be held at Christ the King Catholic Church on Monday, March 10th at 10:00 a.m. A second memorial service will be held in St Louis Missouri in the fall. Pat will be laid to rest near her parents Mary and John Burch at Resurrection Catholic Cemetery in St Louis, Missouri. She will be greatly missed.
The information on this web site is for your personal use only. All pages, compilations, transcriptions and abstracts are protected by copyright law and may not be copied in whole or in part and published or distributed in any manner without written consent of the author, contributor and/or webmaster.
Message from OurFamilyStories.com: The information and data provided in this website, that hasn't been identified as belonging to others, is to be used for personal NON-COMMERCIAL purposes only. It is not to be reproduced in any form for commercial or profit purposes without the express written permission of OurFamilyStories.com.
Copyright ©1995, 2008. OurFamilyStories.com. All Rights Reserved.
Your comments & suggestions are always welcome.
Last Updated 05 March 2008.