This is a copy of a webpage taken from Shipwrecks of Scotland.
SS Mongolian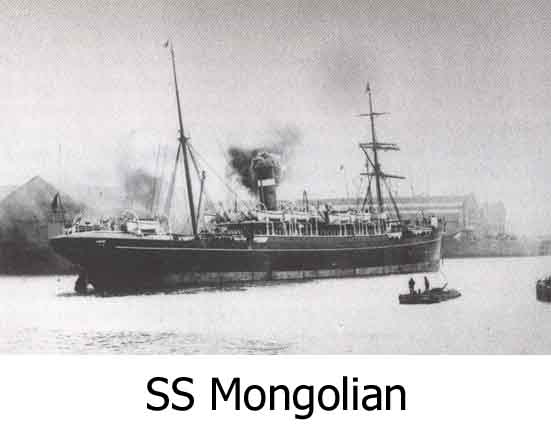 The 4,838 grt single screw steel steamship Mongolian was built for the Allan Line Steamship Company Limited of Glasgow, by D&W Henderson Ltd, shipbuilders, Glasgow in Partick in 1891. She was a sizeable 400 feet in length with a beam of 45 feet and a depth of hold of 30 feet 6 inches. Her net tonnage was 3,088 and her international code letters M.B.S.W. The Mongolian's coal-fired triple-expansion engines developed a powerful 600hp. Notwithstanding, she had been built at a time when the transition from sail to steam had not been fully and completely made. As a consequence, she was fitted out with two towering masts rising up some 100 feet, the foremast being rigged for sail as a tall ship when needed to supplement her engines.
The Allan line, which ordered her construction was more properly known as Montreal Ocean Steamship Company, founded in 1854. The company began sailing from Britain to Canada in 1855, voyages between Liverpool and Quebec were every two weeks. The Allan Line was thus long established in transatlantic voyaging by the time that the SS Mongolian joined the fleet in 1891. The main bulk of her passengers were immigrants fleeing poverty for a new life in America or Canada.
On 21 July 1918, her bunkers full of coal, she nudged out into the River Tees and on to Tees Bay. Her route would take her south down the east coast a few miles offshore. She was unaware of the danger in the dark silty waters ahead of her, her lay the UC-70 of the Second Flanders Flotilla.
The UC-70 was a small U-boat of just 417 tons and some 49 meters long. She was fitted with two forward facing torpedo tubes and one aft-facing tube. These tubes were mounted outside of her pressure hull and could not be loaded while submerged as the UC-70s primary function was as a mine laying vessel. She carried a formidable cargo of 18 mines that were loaded into six tubes running fore and aft along the forward section of her hull.
Small U-boats such as the UC-70 were designed to operate in shallow coastal waters laying minefields across the entrance to enemy ports and coastal shipping lanes. UC-70's torpedo tubes were loaded and ready to use should any other worthwhile prey pass before her. It was in just some unfortunate circumstances that the SS Mongolian passed in front of her.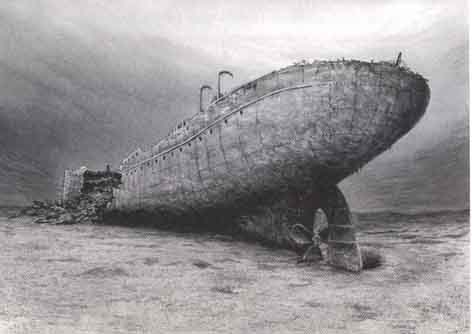 The tell-tale plume of black smoke from the approaching Mongolian's single smoke stack probably first alerted UC-70 to the possibility of a kill. The slow old, large profile of the Mongolian made her an easy target. A torpedo from UC-70 was loosed and blasted into her port side in the vicinity of her boiler-room. in a split second her hull had been ripped open to the sea. Cold, green sea water poured into her innards, immediately altering her trim and forcing her engines out of operation. She slewed to a wallowing halt and started to settle steadily into the water.
The order to abandon ship was given and the wooden lifeboats were swung out from their davits above her large central superstructure, and lowered. As her crew abandoned ship, they knew t5han many of their shipmates had not survived. When the final headcount was made, 36 of her crew had perished.
As the waters closed over the trusty Mongolian, her two towering masts were the last visible sign of her presence above the waves. They too soon disappeared beneath the waves and she plunged down through 40 meters of cold dark water, eventually impacting the seabed. The cruel war had claimed another victim
More details on the SS Mongolian are contained in Dive England's Greatest Shipwrecks.
The information on this web site is for your personal use only. All pages, compilations, transcriptions and abstracts are protected by copyright law and may not be copied in whole or in part and published or distributed in any manner without written consent of the author, contributor and/or webmaster.
Message from OurFamilyStories.com: The information and data provided in this website, that hasn't been identified as belonging to others, is to be used for personal NON-COMMERCIAL purposes only. It is not to be reproduced in any form for commercial or profit purposes without the express written permission of OurFamilyStories.com.
Copyright ©1995, 2004. OurFamilyStories.com. All Rights Reserved.
Your comments & suggestions are always welcome.
Last Updated 21 June 2004