The following tale of Baard Hallvardson Bergsli, also known as Bernard Hanson, began with research into birth certificates, land documents and family oral histories. Nancy Benson supplied an article, from An Illustrated History of Klickitat, Yakima and Kittitas Counties: with an outline of the early history of the State of Washington. Interstate Publishing Company, 1904, pp. 863-4., detailing Benard Hanson's life. Much later, the 1998 Reunion of Descendents of Baard and Bronla Foss in Sand, Norway published a set of family stories developed by Tollak Jakobsen and translate into English by Linda Robinson, which included Baard.
Bernard was born at the farm known as Bergsli, Erfjord, Norway on October 10, 1840 or 1841, but his birth-name was most likely Baard Hallvardson Bergsli, the son of Hallvard Tjerandson Vika (December 28, 1806) and Brita
Baardsdatter Stokkatveit (September 20, 1818), according to Tollak Jakobsen of Norway.
I had always been told that our family name was not Hanson. I had heard from early childhood that our surname was Hallvardson, Halvorsen or Halvarsen depending on the spelling of the Anglicized-version of Bernard's Norwegian name. While on the west coast of North America, Bernard became known as Baard Halvorsen for a time. When he permanently entered the United States, his last-name became Hanson and thus began the Bernard Hanson Family.

Even after he made the United States his home, his first-name was spelled either Bernard or Benard. Land documents have Bernard, while an Affidavit of Birth has both Benard and Bernard. The reference article calls him, Benard. The paperwork concerning his burial has his name spelled Bernard, but on his headstone, his name is spelled, Benard. His son, Alfred spelled his middle-name Bernard and Alfred's son Larry, spells his middle-name Bernard. The 1880 Census for Yakima county even listed him as Benjamin. He generally went by the name, Ben.
Ben left home at age eight to learn a trade. Typically, an apprentice worked for room, food and clothing for a specific number of years, while learning the tricks of a trade. Ben was employed thusly until he was around age fourteen, when he went to sea. He sailed and fished on the oceans of the world, including Alaska and the ports along the west coast of North America, such as Seattle and San Francisco.
One story has Ben arriving in San Francisco, California around 1864, where he worked on the building of Cliff House. Later he tried his hand at gold and silver mining, traveling the western territories, finally reaching the Washington Territory in 1866. Another story offered by the article in the Central Washington reference book and Tollak Jakobsen, says he finally quit the sea when he arrived in San Francisco on October 5, 1867. He took the name Bernard Hanson and began working on the John B. Jones dairy farm at Half Moon Bay, California. Ben became a naturalized citizen in 1874 and later moved to the Washington Territory in 1877 with the Jones Family. However, the 1870 census has David Kelsey and Barney McKay working as "day labors" for John B. Jones. Ben is not found in the 1870 Half Moon Bay area census. His whereabouts in 1870 has not been determined and research into this part of the timeline continues.

<![if !vml]>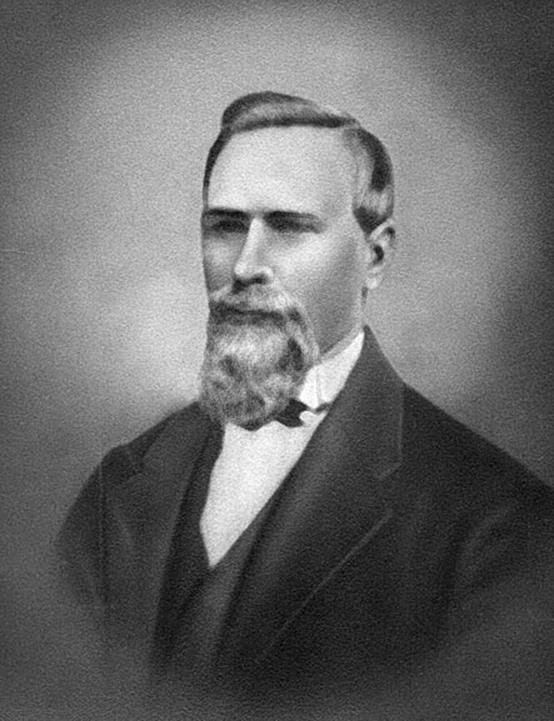 <![endif]>
Bernard Hanson wedding portrait, December 1882
Portrait courtesy of Nancy Benson

Ben married John Jones' daughter, Sophia Belle Jones , of Half Moon Bay, San Mateo, California on December 25, 1882 in the Washington Territory. Ben and Belle had twelve children: Bertha (October 28, 1883), John Henry (February 17, 1886), Martha Ella (June 25, 1888), Jacob Walter (June 13, 1891), Mary Frances (August 20, 1893), Ora Belle (September 13, 1895), Charles Richard ( April 3, 1897), Narcissus (October 28, 1899), Theodore Roosevelt (Ted) (May 22, 1902), Emma Winifred (February 15, 1904), Alfred Bernard (Al) (September 2, 1907), and Grace (December 27, 1911).

The family lived on a 140 acre cattle ranch (Section: 2, Township: 18-N, Range: 18-E or 47.0812 N / -120.5461 W) in Kittitas county, Washington near Ellensburg from 1882 until the fall of 1909.

Most of the family moved to a berry farm on the north bank of the Puyallup River just outside of Puyallup, Pierce county, Washington in 1909. They were listed in the 1910 Federal Census taken April 20 and 21, 1910 as living in the Puyallup precinct. Bertha Taylor, Mary and Jacob Hanson remained and were listed in the 1910 Kittitas county census. Mary lived with William and Bertha Taylor and joined the Hanson family in Puyallup at a later date.
The original Puyallup farmhouse burned and was replaced by Ben in 1926.

<![if !vml]>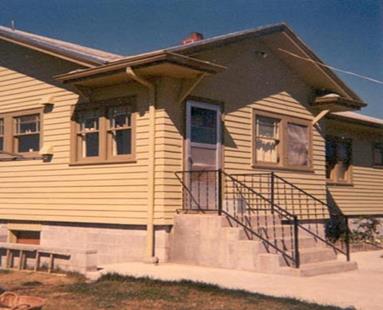 <![endif]><![if !vml]>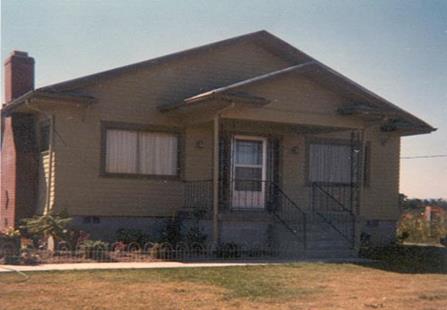 <![endif]>
The Puyallup farmhouse built in 1926 after fire destroyed the original structure. Photo courtesy of Nancy Benson (1970)

Ben died in September 8, 1927 with interment in the Sumner City Cemetery on September 10, 1927.
<![if !vml]>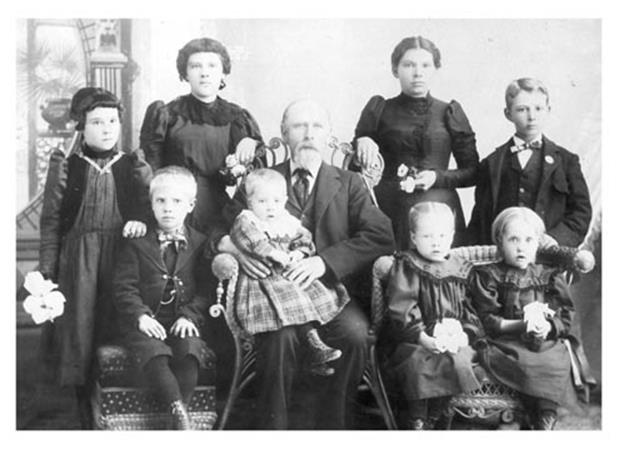 <![endif]>
Photograph courtesy of Laura, a Brown Family Genealogist
Can you name the people in this photo?
Bernard Hanson Family (1909): Suggestion: Left to right front row: Theodore (Ted, age 8), baby in lap, Alfred (Al, age 2), Ben (age 69), two girls (one may be Emma, age 6 and the other granddaughter Eva Taylor, age 6), Left to right back row: Narcissus (Sis, age 10), Ora (age 14), Mary (age 16) and Charles (age 12).
or
Bernard Hanson Family (1899): Suggestion: Left to right front row: Jacob (age 7), baby in lap, Charles (age 2), Ben (age 59), two girls (one may be Mary, age 5 and the other Ora Belle age 4), Left to right back row: Martha Ella (age 10), Bertha (age 15), Sophia (age 33) and John Henry (age 12). (Suggested by Nanette Palo, 2014)
 If you have a photo of known Hanson family members, please contact us.