Grace Hanson Palo
Berry Farmer, Wife, Mother, Grandmother and Great-Grandmother
27 December 1911 - 14 July 2007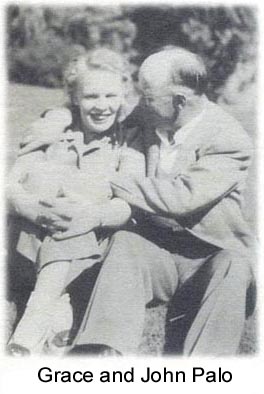 Grace Hanson was born 27 December 1911 on the Hanson Berry Farm in North Puyallup, Pierce, Washington, the 12th child of Bernard Hanson (Baard Hallvardson Bergsli) and Sophia Belle Jones. Grace was strong, intelligent and self-assured with a warm and loving personality.
In 1930, Grace married John Aldrick Palo, the son of John B. Palo and Elizabeth C. Rautio and they lived in Tacoma until the 1940's when they moved back to the farm in Puyallup. Grace became the caregiver of her beloved sister, Ora Belle Hanson until Ora's death in 11 Jan 1972 at age 76.
Grace and John had three children, Susan and the twins, Nancy Rose and Nanette.
While John worked the berry farm, tilling the soil, planting and spraying, also he worked in the timber industry as a supervisor for road building and tree planting.
Grace managed the berry farm and handled the berry picking. Most berry pickers were family. They included her brothers and sisters and their wives, husbands and children.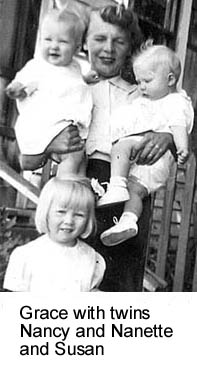 Grace maintained what eventually became known as a "victory garden" which included vegetables and fruits for the family's meals. She was a great cook. She baked bread, cakes and pies (rhubarb was my favorite) and cooked navy beans and ham.
Her very young daughters sang this little tune:
Beans, beans, the musical fruit. The more you eat, the more you toot! The more you toot, the better you feel! So, lets have beans for every meal!
She set a fine table, with lots of different dishes featuring home-canned fruit preserves and vegetables, that were a delight to eat.
Eventually as John and Grace grew older, the berry farm became too difficult for them to manage and the farm was divided into a trailer park. John died in July 1976 just shy of his 76th birthday and he was buried in the new section of the Sumner City Cemetery, in North Puyallup just a few miles from the farm. The farm was finally overtaken by the construction of a new highway system on the north bank of the Puyallup River.
Grace retired and enjoyed her family which now included grandchildren and great-grandchildren. Eventually, Grace's health and her memory began to fail. She moved into a retirement home in Puyallup.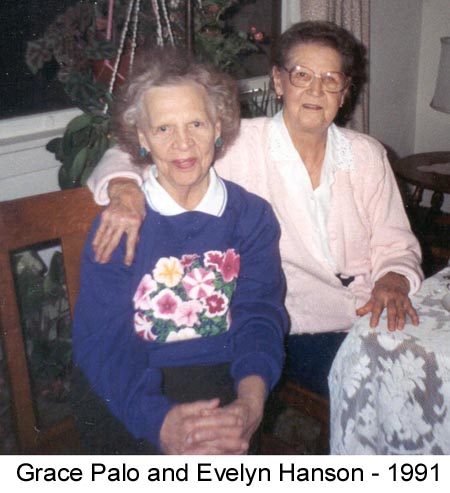 Grace died 14 July 2007 after a life filled with good works and love as a great example to how one should live. She was buried next to her beloved husband, John on 20 July 2007 in the Sumner City Cemetery, Pierce, Washington.
A loving tribute from her daughters.
Grace Palo Obituary:
Grace Palo Beloved mother, grandmother and great-grandmother, passed away on July 14, 2007. She lived a full life managing the family raspberry farm with her late husband John Palo. She devoted herself to her family, giving three generations a warm and loving home to grow in. Grace leaves a legacy of cherished memories and is survived by 3 daughters Susan Vlosich, Nancy Benson & Nanette Palo-Al-Marri, 5 granddaughters, Christine, Kimberly, Natalie, Sophia & Sarah, 2 great-grandchildren, Justin & Logan & numerous nieces and nephews. She is now with the Lord in His 'Grace'. We will tend her memory forever in our hearts.
Published in the News Tribune (Tacoma) on 7/22/2007.
The information on this web site is for your personal use only. All pages, compilations, transcriptions and abstracts are protected by copyright law and may not be copied in whole or in part and published or distributed in any manner without written consent of the author, contributor and/or webmaster.
Message from OurFamilyStories.com: The information and data provided in this website, that hasn't been identified as belonging to others, is to be used for personal NON-COMMERCIAL purposes only. It is not to be reproduced in any form for commercial or profit purposes without the express written permission of OurFamilyStories.com.
Copyright ©1995, 2007. OurFamilyStories.com. All Rights Reserved.
Your comments & suggestions are always welcome.
Last Updated 24 July 2007