Sophia Belle Jones (aka Belle) was born in Half Moon Bay, San Mateo County, California in November 29, 1865; the daughter of John Boone Jones of Kentucky and Martha Brown of Illinois. According to the 1870 census, John (age 37) and Martha (age 22) had three daughters; Sophia B. (age 5), Mary T. (age 2), and Martha (age 9 months). They lived in the 5th Township, Half Moon Bay, San Mateo, California on their 160 acre farm (Sec/Blk: 27/ , Twnshp:5-S, Range:5-W).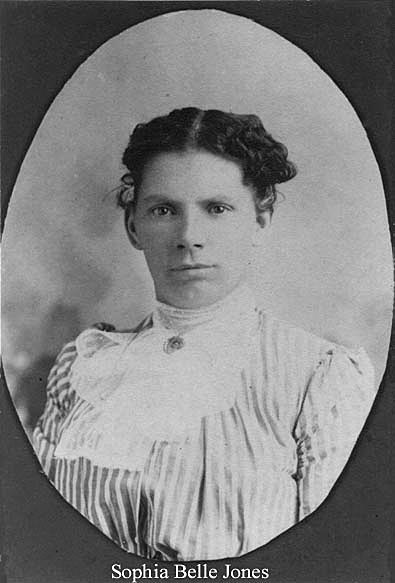 Photo courtesy of Nancy Benson
Belle moved with her family to a farm in the Kittitas area of Yakima County, Washington Territory around 1877. This area would become the new Kittitas County. The 1880 census indicates the family included John (age 47), Martha (age 31), Sophia (age 15), Mary (age 12), Martha (age 10), John (age 8), Narcissus ( age 5) and Henrietta (age 1). All the children are listed as being born in California, except Henrietta, who was born in Washington Territory.

Belle married Be(r)nard Hanson on Christmas Day, December 25, 1882. They would move to a 140 acre cattle ranch (Sec: 2, Township: 18-N, Range: 18-E) outside of Ellensburg, Kittitas County, Washington Territory, and then in 1909/1910 to a farm in North Puyallup, Pierce County, Washington on the north bank of the Puyallup River, to raise some cattle and berries. Belle and Ben had twelve children: Bertha (October 28, 1883), John Henry (February 17, 1886), Martha Ella (June 25, 1888), Jacob Walter (June 13, 1891), Mary Frances (August 20, 1893), Ora Belle (September 13, 1895), Charles Richard ( April 3, 1897), Narcissus (October 28, 1899), Theodore Roosevelt (Ted) (May 22, 1902), Emma Winifred (February 15, 1904), Alfred Bernard (Al) (September 2, 1907), and Grace (December 27, 1911).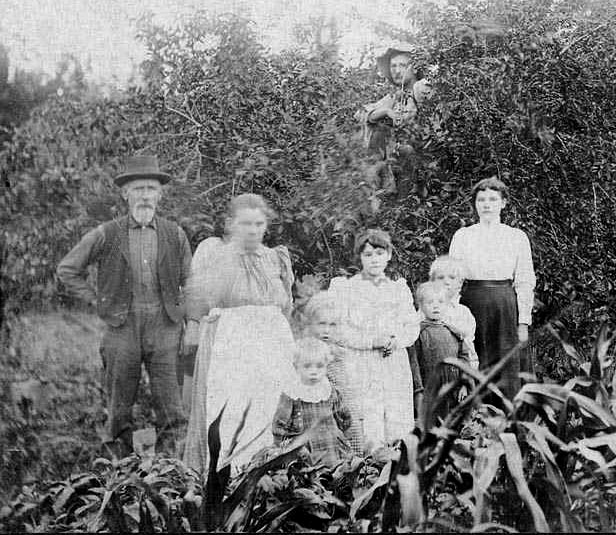 Ben and Belle Hanson on Ellensburg farm with children in late summer 1909
Photo courtesy of Nancy Benson

Be(r)nard died September 8, 1927 and was buried on September 10, 1927 in the Sumner City Cemetery, just east of the family farm.
Eventually, Belle would marry Ted Pederson and they continued to live on the berry farm.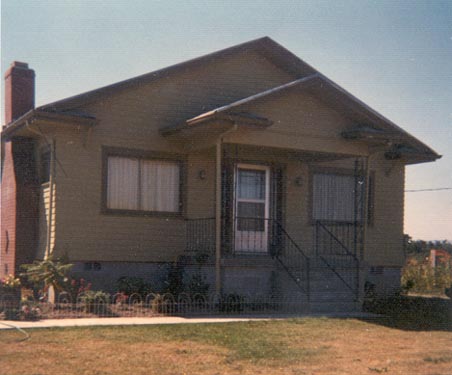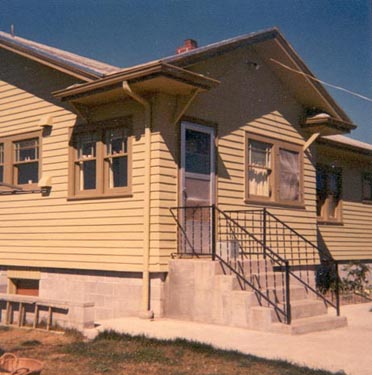 The Puyallup farm house built in 1926 after fire destroyed the original structure. Photo courtesy of Nancy Benson (1970)
Belle died at home in Puyallup, Pierce County, Washington on December 9, 1940 (Obituary) and was buried next to Be(r)nard on December 12, 1940 in the Sumner City Cemetery.
Message from OurFamilyStories.com: The information and data provided in this website, that hasn't been identified as belonging to others, is to be used for personal NON-COMMERCIAL purposes only. It is not to be reproduced in any form for commercial or profit purposes without the express written permission of OurFamilyStories.com.
The information on this web site is for your personal use only. All pages, compilations, transcriptions and abstracts are protected by copyright law and may not be copied in whole or in part and published or distributed in any manner without written consent of the author, contributor and/or webmaster.
Copyright ©1995, 2003. OurFamilyStories.com. All Rights Reserved.
Your comments & suggestions are always welcome.
Last Updated 18 February 2003