Evelyn Christine Greenlaw Hanson
Seamstress, Upholsterer, Saleswomen, Bookkeeper, Mother, Grandmother and Great-Grandmother<![if !vml]>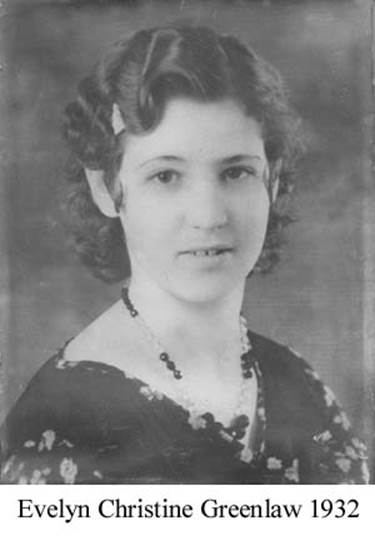 <![endif]>
2 November 1916 - 18 July 2005
Evelyn was born 2 November 1916 at the family farm, Cold Spring Dairy on Clover Creek Road in Spanaway, Pierce, Washington. She was the third child born to Loren Thomas Greenlaw and Anna Marie Luella Kuper. She grew up on the dairy farm surrounded by her two older brothers, two younger sisters and numerous aunts, uncles, and cousins. She attended Clover Creek School and graduated the eighth grade.
Evelyn enjoyed growing up in rural Pierce county. While her brothers rode motorcycles. She rode horses all around the countryside. Her favorite destinations were Spanaway Lake and American Lake. She related a tale of a Model A Ford truck, her brothers and a very large burn pile. The kids were playing around the Ford and they decided to go for a ride. Unfortunately, the boys had to crank the engine while Evelyn worked the spark advance and throttle. She was about eight years old and could reach most of the levers. Alfred and Vernon got the motor running and the Ford took off. The Ford was moving far faster than the boys could run, so off went Evelyn with the boys in pursuit. The boys hadn't counted on the speed and Evelyn didn't know now to work the clutch or brakes. After sometime the truck tore into the burn pile and did some major damage to itself. Daddy was not happy with the boys and never thought that his little daughter was part of this disaster. The boys got punished for their collusion in the affair. It wasn't until almost fourteen years later that Dad found out that Evelyn had been driving the truck.
Evelyn got to know her future husband, Alfred Bernard Hanson, when he made regular trips to pick up the family dairy's milk production. They married December 20, 1933 at the Elk Plain Grange Hall. Evelyn and Al had four sons, Larry Bernard, Freddie Lee, Robert Jay and James Richard Hanson. Evelyn and Al separated and later divorced in 1955.
<![if !vml]>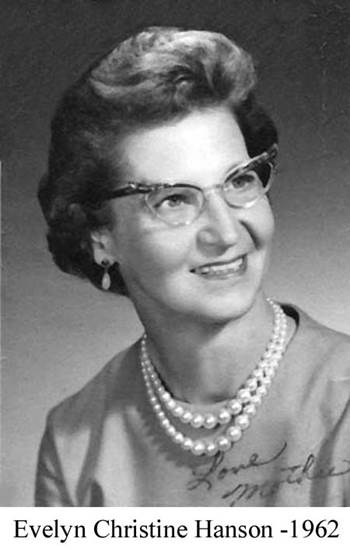 <![endif]>Evelyn went to work for the Singer Sewing Machine Company to support her four sons. She worked in the Puyallup, Tacoma, South Tacoma and Lakewood stores over the next fourteen years. She was a regular during the Puyallup Fair in the Singer booth.
To earn extra money, Evelyn started sewing clothing for others (Fashion by Evelyn). While she was living in Shelton, Washington she began upholstering furniture. Upholstery work took a heavy toll on her hands and knees and she was forced into retirement due to arthritic joints.
To keep herself busy, Evelyn continued to sew a few garments usually for her own use and enjoyed crocheting and knitting, which helped to keep her hands limber.
Evelyn was a member of the Southern Baptist Church. In Shelton her church was one of several Baptist churches in this small town. Their building was a converted house. As their church grew, they out grew the house and wanted to build a real church chapel. Because they were a small group, they had to sell the house in order to afford their building project. But if they sold the house, where would they have their services? Evelyn knew the Catholic priest at Saint Edwards and she got her preacher and Father Kiernan talking about renting out the catholic church's basement. This arrangement worked very well for both churches. Father Kiernan's only comment was the Baptist were much better singers than his catholic parishioners. <![if !vml]>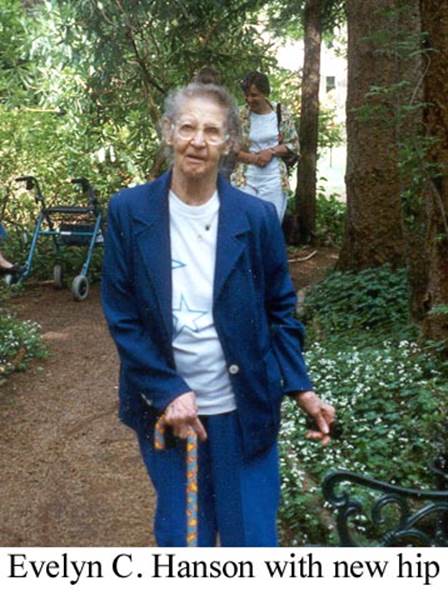 <![endif]>
In the nineteen eighties, Evelyn started taking frequent trips to Florida to visit her son, James and his family, Pat, Stephany and Jay. On one of the earlier trips, Stephany's friend, Lori Temple accompanied Evelyn. It was Lori's first flight and she had a very nervous father in Shelton worried sick about his only daughter flying across country. James showed up early at the gate to greet the two. As the plane from Atlanta emptied there was no sign of the two travelers. James asked the gate attendant if everyone was off the plane. She had someone check. No more passengers were on the plane. James had the attendant check on the status of Evelyn and Lori. After several minutes of typing and frequent "huhs!", the attendant said that Evelyn and Lori were in Omaha. This was very unusual since the airline didn't have flights to Omaha. Their flight from Seattle to Atlanta had a mechanical problem and they landed at the nearest airport. Since the airline didn't have facilities in Omaha, they had to bring the parts from elsewhere to repair their plane. Evelyn and Lori had to spend the night in Omaha and James had to explain this to Lori's father. All ended well the next day, when Evelyn and Lori arrived in Jacksonville. However, the plane trip adventure continued for Evelyn's cat, Angie. In Atlanta, Angie was transferred to the wrong connecting flight and she ended up in Miami, Florida. Angie arrived filthy and disheveled, later the next day.
Over the next thirteen years, Evelyn became increasingly handicapped by arthritis and she lost vision in her left eye. Evelyn's last airline trip was to her granddaughter Stephany's wedding in Shreveport, Louisiana in 1997. For the second time Lori accompanied Evelyn. Lori helped Evelyn maneuver the flight changes and find the gates. Lori said it was the best because Evelyn couldn't walk very far, so they were driven everywhere with Evelyn cracking jokes the whole way.
Evelyn's cats were very important to her. As a child she was traumatized when her brothers threw a live mouse at her and it went down the front of her blouse. She couldn't even touch fur without becoming overly excited. Eventually, she became so anxious, that she fainted after accidentally touching a strip of fur. Her doctor recommended that she get a cat, so that she could become comfortable with fur. Evelyn and her son, James went to the Tacoma Humane Society and adopted a long hair white cat. It was several weeks before she could even touch the cat. The cat kept coming up to her for attention and she would bravely try to pet her. Evelyn finally became able to have the cat lay in her lap. That's how Princess became a member of the family.
Obit
Evelyn Christine (Greenlaw) Hanson
Born on the family farm, Cold Spring Dairy on Clover Creek Road, Spanaway on 2 November 1916 passed away in Olympia on 18 July 2005. She was preceded in death by her parents, Pierce county pioneer family members Loren T. and Anna Marie Luella (Kuper) Greenlaw, two brothers, Alfred Lawrence and Vernon Wesley Greenlaw, grandson Gregory Hanson and granddaughter, Pamela Hanson. Evelyn grew up on the dairy farm now occupied partly by Boeing Company and she attended Clover Creek School. She taught sewing for the Singer Company and was a well known seamstress and upholsterer before her retirement. She lived in many area communities, including Puyallup, Tacoma, Lakewood and Shelton, and spent short periods of time in the states of Missouri and Kentucky before moving to a retirement community in Olympia during the early 1980ís. She is survived by her four sons and their wives: Larry and Carole of Kennewick, Fred and Melody of Olympia, Robert and Lily of Tacoma, and James and Patricia of Jacksonville, Florida; two sisters, Lorraine Caulfield of Anchorage, Alaska and Lucille Nilsen of Port Ludlow, her maternal Aunt Irene Morris of University Place, 10 grandchildren, 17 great-grandchildren, five step-grandchildren, 12 step-great-grandchildren, several nieces, nephews and numerous cousins.
<![if !vml]>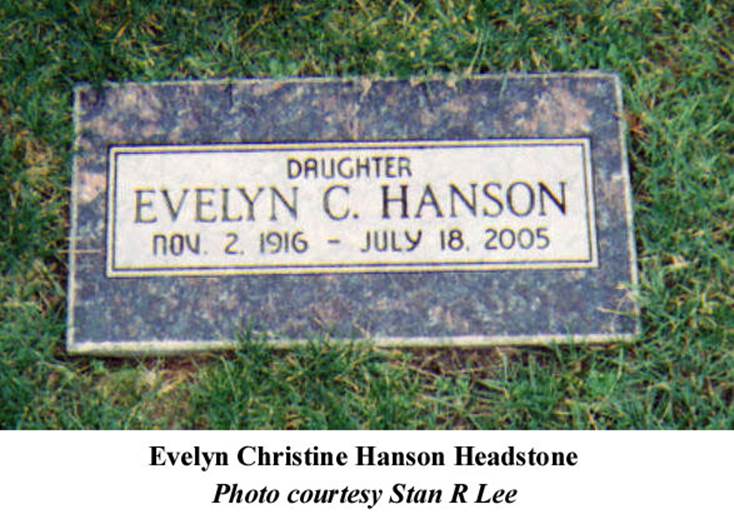 <![endif]>
The information on this web site is for your personal use only. All pages, compilations, transcriptions and abstracts are protected by copyright law and may not be copied in whole or in part and published or distributed in any manner without written consent of the author, contributor and/or webmaster.
Message from OurFamilyStories.com: The information and data provided in this website, that hasn't been identified as belonging to others, is to be used for personal NON-COMMERCIAL purposes only. It is not to be reproduced in any form for commercial or profit purposes without the express written permission of OurFamilyStories.com.
Copyright ©1995, 2015. OurFamilyStories.com. All Rights Reserved.
Your comments & suggestions are always welcome.
Last Updated 8 January 2015
<![if !vml]>

<![endif]><![if !vml]>

<![endif]><![if !vml]>

<![endif]><![if !vml]>

<![endif]><![if !vml]>

<![endif]>