Anna Marie Luella Kuper was born in Lennox (SSW of Sioux Falls), Lincoln, South Dakota on November 12, 1892 (State File Number: 619525) the daughter of Wessel Kuper, a native of Germany and Christina Amelia Johanna Thaden, a native of Iowa and Luverne (East of Sioux Falls), Minnesota. The Kuper family moved to Pierce county, Washington in 1908 and settled near Parkland (South of Tacoma near Spanaway).

Anna and Loren Thomas Greenlaw were married December 27, 1911 and they had five children:
Alfred Lawrence, Vernon Wesley, Evelyn Christine, Lorraine, and Lucille Irene also known as Babe.

In 1923, Anna and Loren bought the Greenlaw farm from his brothers and sisters and raised their family there for many years. Because of the Great Depression, they were forced to sell their land and move off their farm.

On December 2, 1941, their second son Vernon (Bud) Greenlaw was killed in a logging truck accident near the Roy cutoff, while on his way to a "going away" party. Vernon had joined the Navy and was scheduled to leave on December 7, 1941. Anna was injured in the accident and suffered great pain the rest of her life.

In the early 1950's, Anna and Loren were living near downtown Tacoma at 3017 East E Street. Anna died in her sleep from a cerebral hemorrhage, on the morning of July 20, 1952. She was buried in Sumner Cemetery.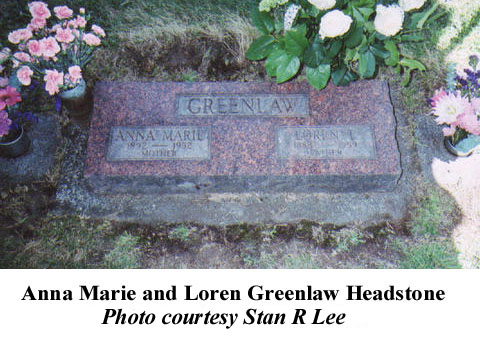 The following is the Obituary/Death notice as it appeared in the Tacoma News Tribune on 22 July 1952. [ Tacoma Public Library : Greenlaw, Anna Marie 20-Jul-1952 T RPTR 22 JUL 1952 p8 ]

"Greenlaw, Mrs. Loren (Anna Marie), 59, of 3017 East E St., died Sunday at her home. She was born in Lennox, S. D., and had been in Tacoma for 43 years. Survivors are her husband, three daughters, Mrs. Evelyn Hanson of Tacoma, Mrs. Lucille Nielson of Morton and Mrs. Lorraine Caulfield of Spenard, Alaska; a son, Alfred of Spanaway; her mother, Mrs. Frank McCarty of Tacoma; five brothers. George, Ben, Fred and John Kuper of Tacoma and Ernest of Centralia; two sisters, Mrs. Irene Olsen and Mrs. Hannah Shervin, both of Tacoma, and 10 grandchildren. Services will be held Wednesday at 1 p. m. in the C. C. Mellinger memorial church, with the Rev. Dwight L. Kinman officiating. Burial will be in the Sumner cemetery."
Message from OurFamilyStories.com: The information and data provided in this website, that hasn't been identified as belonging to others, is to be used for personal NON-COMMERCIAL purposes only. It is not to be reproduced in any form for commercial or profit purposes without the express written permission of OurFamilyStories.com.
The information on this web site is for your personal use only. All pages, compilations, transcriptions and abstracts are protected by copyright law and may not be copied in whole or in part and published or distributed in any manner without written consent of the author, contributor and/or webmaster.
Copyright ©1995, 2006. OurFamilyStories.com. All Rights Reserved.
Your comments & suggestions are always welcome.
Last Updated 18 June 2006