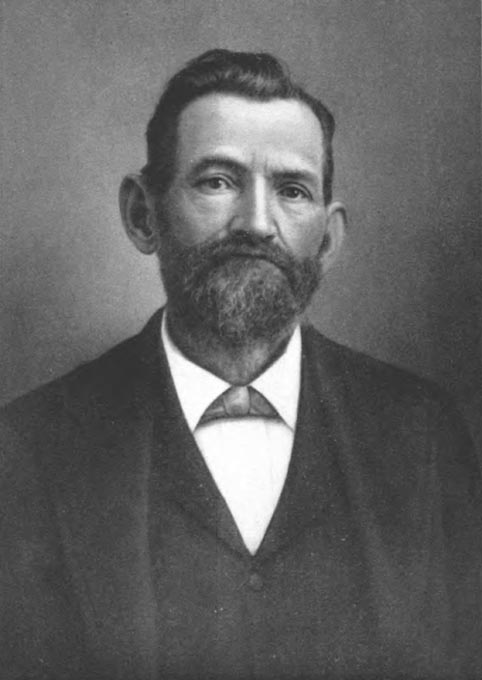 Published photograph of John Boone Jones.
Copy obtained from Local History Collection, Ellensburg Public Library.
John Boone Jones was born in Bourbon County, Kentucky on 23 June 1833. He was orphaned as a young child and went to live in Arkansas with foster parents. Family oral tradition says that John was a great grandson of Daniel Boone. Jones Family members traveled with Daniel and were deeply involved with the Daniel Boone family for many years. The Boone relationship is still being researched.
John's daughter, Narcissus on the eve of her 100th birthday celebration (June 1975) related the story of her life to Yvonne Prater a columnist for the Ellensburg Daily Record. According to Narcissus, John crossed the great American plain to join the gold rush to California in 1850.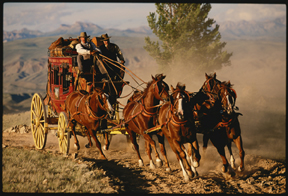 After kicking around in mining camps for a number of years, John became a driver for the short life of the Butterfield Stage Line (1857 - 1861) from San Francisco to St. Louis, a twenty-five day trip. He drove a six-horse team. The Line closed June 1861, because of the start of the Civil War. In the 1860 Federal Census, a John Jones is listed as an Expressman in Los Angeles, California, United States Asst. Quarter Master Department. He would go onto be one of the first Wells Fargo employees for a northern route through Denver and Salt Lake City and Sacramento.

John married Martha Ellen Brown of Pike County, Illinois on the July 1, 1863 in California. Martha was the daughter of Dyer Brown ( Dyer was born in Upper Canada, aka Ontario, but his family normally lived in German Flats, Albany, New York ) and Jane McMillen (Ohio).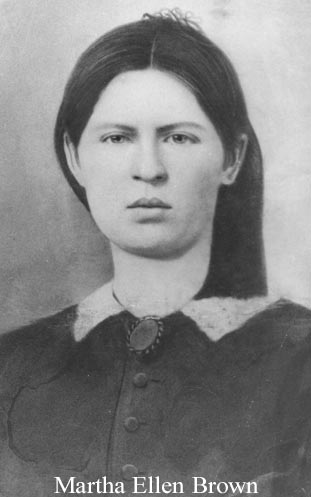 Photo courtesy of Mrs. N.M. Hartwig and Nancy Benson

John moved to land near Half Moon Bay, San Mateo, California and purchased additional land near his dairy/cattle farm in November 9, 1867 and a further acquisition was made in 1868. According to the 1870 Federal Census, John (age 37)and Martha (age 22) had three daughters; Sophia B. (age 5), Mary T. (age 2), and Martha (age 9 months). They lived in the 5th Township, Half Moon Bay, San Mateo, California on their 160 acre farm (Sec/Blk: 27/ , Twnshp:5-S, Range:5-W or 37.4696 N / -122.4002 W).

According to his great-granddaughter, Mrs. Geraldine Harris, John moved his family to Washington Territory with two huge covered wagons pulled by six well bred horses. The wagons were piled high with good furniture, mahogany tables, spool beds, silver and china. They had $70,000 in gold and they arrived just before the outbreak of the Indian War of 1878-79. They settled on a 160 acre farm in the area of Yakima County that would become East Kittitas County, Washington (E 1/2 SW 18/ 18-N 19-E and N 1/2 SE 18/ 18-N 19-E or 47.0518 N / -120.5036 W) near Wilson creek. John continued to develop the farm by adding buildings and increasing it to 360 acres.

Federal Census reports indicate John and Martha had eight children. Their first child, Sophia Belle was born in November 29, 1865. Mary, Martha, John, Narcissus (June 6, 1875) were born in California. Henrietta, Walter and Alpha (June 1884) were born in Washington Territory.
John and Martha were reported in the 1910 Federal Census as living in East Kittitas Precinct, Kittitas, Washington. According to the census information one of their eight children had died. Further research indicates that Alpha had died prior to the 1909 publication. In the 1920 Federal Census, they are living on Brockway Street in the Herman Precinct of Roseburg, Douglas County, Oregon.
John Boone Jones died Friday afternoon, July 29, 1921 at home in Ellensburg. His obit reports that he is survived by his wife, Alice Jones , four daughters and two sons. Information concerning Martha's death has not been uncovered.
Federal Census: John B. Jones and Family


Photocopies of Federal Census 1870, 1880, 1900, 1910 and 1920 from
Ancestry.com
were used to verify names and dates.

1860 Federal Census, Los Angeles, Los Angeles, California, Page 73 of 158 (Ancestry.com: Year: 1860; Census Place: Los Angeles, Los Angeles, California; Roll: M653_59; Page: 365; Image: 366.)

1870 Federal Census, 5th Township, San Mateo, California, Page No. 16, Lines 13-17.
(Ancestry.com: 1870 U.S. Census * California * San Mateo * Unknown Township: Image 128 of 172, Lines 13-17)

1880 Federal Census, ED#46, East Kittitas Precinct, Yakima, Washington Territory, Page No. 94, Lines 4 -11.
(Ancestry.com: 1880 U.S. Census * Washington Territory * Yakima * All Townships * ED#46: Image 34 of 35, Lines 4 - 11)

1900 Federal Census, ED#28, East Kittitas Precinct, Kittitas, Washington, Sheet No. 6, Lines 4 - 6.
(Ancestry.com: 1900 U.S. Census * Washington * Kittitas * All Townships * ED#28: Image 11 of 26, Lines 4 - 6)
1910 Federal Census, ED #87, East Kittitas Precinct, Kittitas, Washington, Sheet No. 5B, Lines 84 and 85. (Ancestry.com: 1910 U.S. Census * Washington * Kittitas * All Townships * ED#87: Image 11 of 21, Lines 84 and 85.)
1920 Federal Census, ED #160, Herman Precinct, Roseburg, Douglas County, Oregon. (Ancestry.com: 1920 U.S. Census*Oregon*Douglas*Roseburg*ED#160: Image 16 of 128)
Public Land Documents:
MD - Mount Diablo
MERIDIAN TOWNSHIP RANGE SECTION DOCID DATE NAME
MD 0050S 0050W 027 1734 1868/11/10 JONES JOHN B
| | | | | | | |
| --- | --- | --- | --- | --- | --- | --- |
| JONES, JOHN B | CA | San Mateo | 11/10/1868 | Assigned For Automation | 1734 | CACAAA 138490 |
| | | | | | | |
| --- | --- | --- | --- | --- | --- | --- |
| JONES, JOHN B | WA | Kittitas | 11/17/1894 | Yakima/North Yakima | 29 | WAYAA 049679 |
Lyman, W. D., History of the Yakima Valley Washington Comprising Yakima, Kittitas and Benton Counties, The S. J. Clarke Publishing Co., Chicago and New York, 1919, pp 790-793.
The information on this web site is for your personal use only. All pages, compilations, transcriptions and abstracts are protected by copyright law and may not be copied in whole or in part and published or distributed in any manner without written consent of the author, contributor and/or webmaster.
Message from OurFamilyStories.com: The information and data provided in this website, that hasn't been identified as belonging to others, is to be used for personal NON-COMMERCIAL purposes only. It is not to be reproduced in any form for commercial or profit purposes without the express written permission of OurFamilyStories.com.
Copyright ©1995, 2004. OurFamilyStories.com. All Rights Reserved.
Your comments & suggestions are always welcome.
Last Updated 12 October 2006