Kate Potter Gifford Revett(e) ( 1879 - 1915 )

Kate "Kitty" Potter, was born on November 25 1879 in Over Darwen, Lancashire, England, and lived at

95 Duckworth Street (1881 British Census).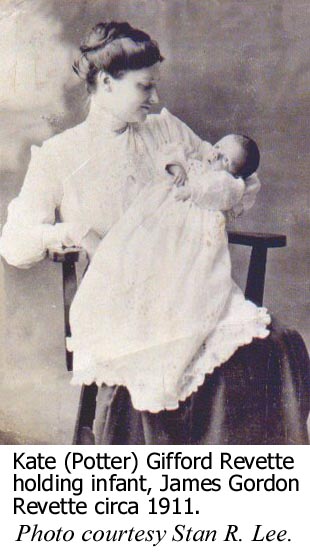 Kate's parents were Joseph Potter b. 04 August 1837 in Leyland, England, d. 23 August 1905 in Cottam, England, and Anne Law, b. 06 July 1839 in Walton-le-Dale, England and died 12 July 1889 in Walton-le-Dale, England. They were married May 25, 1863.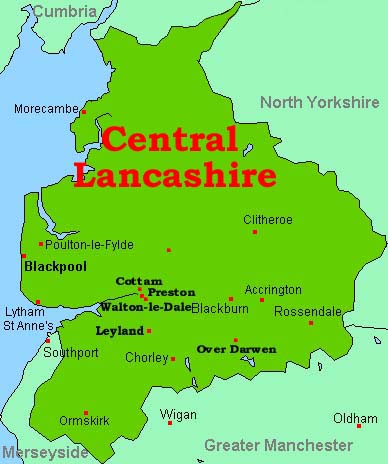 Joseph and
Joseph and Ann Law Potter had nine children. Margaret, born 1863 and died Oct 4, 1871 in Preston, England. Samuel Potter born about 1864 in Preston England and died November 30, 1866 in Preston, England. John Potter born 1866 in Preston England, died September 13 1867 in Preston, England. Samuel Potter Died in child birth October 8, 1869, Preston, England. Herbert Potter, born 1871 in Preston, England, died Sept. 3, 1872 in Preston, England. Violet Potter, born July 9, 1873 in Walton-le-Dale, England, Died, April 24 1951 in Spanaway, WA (Married Thomas Turner (Chris Turner's one of Chris Turner's older brothers), on May 22, 1899. Frank Potter, born 1876 in Over Darwen, England, died 1951. Married a Martha Thwaite. Tom Potter, born 1878 in Over Darwen, England, Died (?) Married "Lilly". Kate "Kitty" Potter, born November 25 1879 in Over Darwen, England.
Joesph Potter parents were Edward Potter and Margaret Cardwell. Anne Law parents were James Law and Ann Maudsley.
Kate married Frederick Gifford of Preston, Lancashire, England, about 1898 in Lancashire county, England. They had three children, who lived, namely: Harry B. (28 Sep 1899 - 12 May 1986), John (19 Mar 1903) and Amy (19 Dec 1905 - 5 Apr 1990).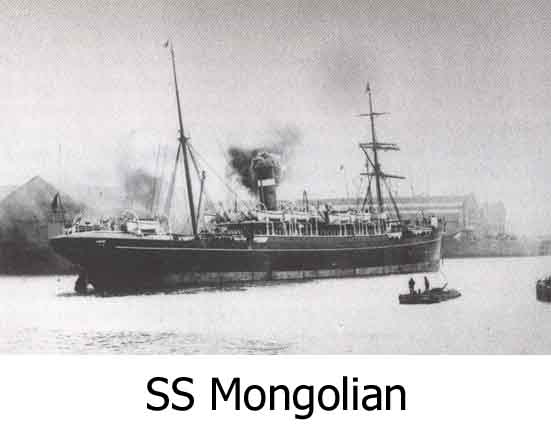 Kate and Frederick moved to the United States of America sailing on-board the SS Mongolian from Liverpool England on 15 July 1901 enroute to Quebec, where they took the Canadian Pacific Railway across Canada to Abbotsford, British Columbia. They entered the United States at the Port of Sumas, Whatcom, Washington on 19 August 1901. They continued their travel to Tacoma, Pierce, Washington to the home of Thomas and Violet (Potter) Turner, Kate's brother-in-law and sister. Kate and Fred divorced sometime around 1910 and Kate moved to King County, Washington.
On March 23, 1910, Kitty married Douglas James Revett(e) in Seattle, King, Washington (Marriage Certificate-King County/Seattle, Washington). Kate and Douglas James had a son they named, James Gordon (15 Feb 1911 - 1 Jun 1992).
Kate Revett(e) died December 11, 1915 in Seattle, Washington due to tuberculosis during a TB epidemic. She is buried at the Lakeview Cemetery, Seattle, King, Washington.
Compiled by Stan R. Lee (27 April 2004).
The information on this web site is for your personal use only. All pages, compilations, transcriptions and abstracts are protected by copyright law and may not be copied in whole or in part and published or distributed in any manner without written consent of the author, contributor and/or webmaster.
Message from OurFamilyStories.com: The information and data provided in this website, that hasn't been identified as belonging to others, is to be used for personal NON-COMMERCIAL purposes only. It is not to be reproduced in any form for commercial or profit purposes without the express written permission of OurFamilyStories.com.
Copyright ©1995, 2004. OurFamilyStories.com. All Rights Reserved.
Your comments & suggestions are always welcome.
Last Updated 03 July 2004