Anna "Lorraine" Greenlaw Caulfield
25 October 1919 - 8 November 2007<![if !vml]>

<![endif]>
Lorraine was born 25 October 1919 at the family farm, Cold Spring Dairy on Clover Creek Road in the area known as Spanaway, Pierce, Washington near Salsich Junction (Frederickson). She was the forth child born to Loren Thomas Greenlaw and Anna Marie Luella Kuper. She grew up on the dairy farm surrounded by her two older brothers, Alfred and Vernon and her two sisters, Evelyn and Lucile with numerous aunts, uncles, and cousins. She attended Clover Creek School and graduated the eighth grade.
<![if !vml]>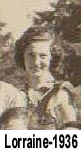 <![endif]>She married Phillip Daniel Caulfield in 1938 and they began to raise their family in Sumner, Pierce, Washington. Daniel Lee was born first in 1940 and Sherrie Ann was born in 1942.
The Caulfield family moved to Anchorage, Alaska in 1950, when Phil took a federal job with the Bureau of Land Management (BLM) as an airplane mechanic. Phil would become the chief mechanic for the BLM in Anchorage before he retired in 1977.
Lorraine dedicated herself to helping family and friends and could be counted upon to provide selfless service to people in need. She helped her community in providing physical therapy to polio victims in the 1950's. She helped with her sister's four sons, while Evelyn was sick and in hospital in Tacoma, Washington during the summer of 1955.
After the 1964 Alaska earthquake, she helped get hot food to hundreds of people in the Anchorage area with the Danny's Delight concession truck. Her son, Dan had brought the truck up to Alaska to use at the various fairs in the area. It was equipped with a electrical generator, grill, deep fryer, refrigerator and soft ice cream machine. The truck was used for hundreds of hours to feed tens of thousands of hot meals through the Salvation Army.
Obituary from Anchorage Daily News on 11 November 2007
<![if !vml]>
<![endif]>Anchorage resident Anna "Lorraine" Caulfield, 88, died Nov. 8, 2007, at her daughter's home in Anchorage of acute leukemia.
In accordance with her wishes, there will be no services.
Mrs. Caulfield was born Oct. 25, 1919, in Salsich Junction, Wash., which was later renamed Frederikson. She lived in Alaska from 1950 to 1977, when she moved to Chewelah, Wash. She later moved to Mesa, Ariz., before returning to Alaska in 2005.
Mrs. Caulfield was involved with Sundog Homemakers and was a 4-H leader.
Her hobbies included gardening, painting, wood, bone and ivory carving, and helping family members and friends.
Her family wrote: "Lorraine was known for her beautiful gardens and flowers. Her home was on the Anchorage Garden Tour several times. She never had a paying job but delighted in helping others. She helped friends with physical therapy during the 1950s polio epidemic, and she drove her son's ice cream wagon all around Anchorage, giving out food from the Salvation Army after the 1964 earthquake. She knitted thousands of slippers, hats, mittens and prayer shawls to be given to those in need. Lorraine also helped her son, Dan, with his amusement rides and food concessions for many years. Her specialty was making cotton candy. She loved to fish with the love of her life of nearly 60 years, her husband, Phil. Lorraine would want to thank all her friends and relatives for helping her have a beautiful, full life."
Survivors are her son, Dan Caulfield of Lakewood, Ohio; daughter, Sherrie Hunt of Anchorage; grandson, Phillip Jay Hunt of Anchorage; great-grandson, Tim Hunt of Coeur d'Alene, Idaho; great-granddaughter, Alicia Walker of Washington; great-great-grandson, Andrew Walker of Washington; and sister, Lucile Nielsen of Port Ludlow, Wash.
She was preceded in death by her husband, Phil Caulfield; grandsons, Tim C. Hunt and Vaughn Hunt; sister, Evelyn Hanson; and brothers, Vernon Greenlaw and Alfred Greenlaw.
Memorial donations may be sent to Hospice of Anchorage, 500 W. International Airport Road, Suite C, Anchorage 99518-1175.
Arrangements are with Anchorage Funeral Home and Crematory.
<![if !supportLineBreakNewLine]>
<![endif]>
Published in the Anchorage Daily News on 11/11/2007.
The information on this web site is for your personal use only. All pages, compilations, transcriptions and abstracts are protected by copyright law and may not be copied in whole or in part and published or distributed in any manner without written consent of the author, contributor and/or webmaster.
Message from OurFamilyStories.com: The information and data provided in this website, that hasn't been identified as belonging to others, is to be used for personal NON-COMMERCIAL purposes only. It is not to be reproduced in any form for commercial or profit purposes without the express written permission of OurFamilyStories.com.
Copyright ©1995, 2010. OurFamilyStories.com. All Rights Reserved.
Your comments & suggestions are always welcome.
Last Updated 6 October 2010