Our Family Stories
Frederick Meyer: Soldier, Millwright, Miller and Landowner
1825 - 1911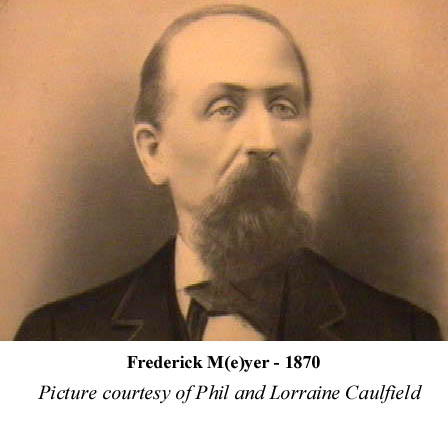 Frederick (aka: Fred) Meyer was born in November 1825 in Westphalia, a province of Prussia, part of present day Germany. He was a blue-eyed, flaxen haired man of medium height and weight when he came to New York as an 18 year old.

He enlisted in the U.S. Army and served at least two enlistments. He saw action in the Mexican War (1846 to 1848) under Major Gabriel J. Rains.

At the end on the war, Fred returned to New York where he was assigned to the First Artillery Battalion under Brevet Major John S. Hatheway. The Major was to gather his troops and sail on the Gunboat Steamer, the USS Massachusetts, from New York around Cape Horn and up the west coast sailing to Hawaii and eventually to Oregon.

Major Hatheway was to take over command of Fort Vancouver from the Hudson Bay Company, as per the newly-enacted treaty between the United States and England.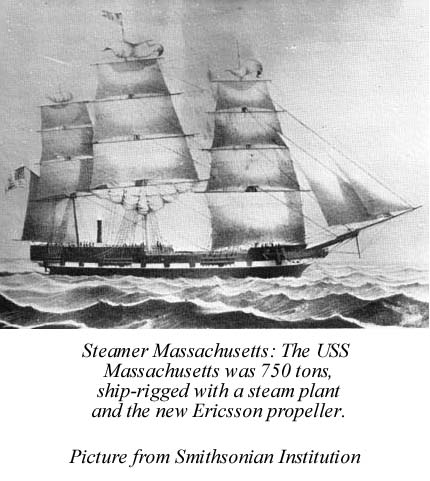 After a six month journey, stopping at Rio de Janeiro, Valparaiso, and Honolulu, the ship entered the Columbia River on May 9, 1849, becoming the heaviest vessel to cross over the river bar up to that time.

Fred Meyer was among the 161 U.S. troops, their wives and children transported on the USS Massachusetts.
Near the end of July 1849, Fred traveled with Company M, First Artillery Regiment, under the command of Captain Bennett H. Hill to establish Fort Steilacoom, Oregon Territory. Over the next few years, a substantial facility well able to defend the population and insure the United States' claim to the area was built. Fred even had a hand in helping ship's master, Captain Lafayette Balch, the developer of Steilacoom, to construct the first house in Steilacoom.
Upon muster out, Fred decided to stay in the area and took up his various land claims. There, he helped to build a water-powered sawmill and gristmill for Thomas M. Chambers. He would work at the mills for many years, eventually taking over their operation after Chamber's death in 1876.

Fred married Frances Louise Relyea on July 10, 1853 in the home of her older sister, Mary ( Mrs. John Bradley ). Louise (born: 1838 in New York) was a French Huguenot/Dutch girl of very dark complexion, dark hair and dark eyes, age about fourteen. They took up a Donation Land Claim of 320 acres at the headwater of Clover Creek. Clover Creek drainage area is the principal source of water for Spanaway Lake, Steilacoom Lake and Chamber's Creek. About 1870 ( or later ) Fred took up an 80 acre Homestead Claim near the 320 acres, and they lived on this land until 1879. In 1879, Louise left Fred for the butcher, Phillip Hanselman, a married neighbor.

Fred and Louise were parents of 11 children, namely: Wilhelmina Mary, Sophia Ann, Catherine Louise, Frederick Augustus, Rose, Ellen, William J., Henry, George A., Martha and Daisy. The two youngest children Martha and Daisy were admitted by Louise to be the children of Phillip Hanselman.

The 1880 Divorce Decree issued by Judge Hensel, on grounds of desertion and unfaithfulness by Louise, gave Fred custody of the four minor children, namely: Ellen, William, Henry and George. The decree also freed him from custody and care of the two minor children Martha and Daisy, taken from him by his wife.

In 1881, Fred married Agnetta Larson Chambers, the widow of Thomas M. Chambers. Agnetta Larson was a native of Norway; who was born on November 15, 1834. Fred and Agnetta took up a claim on Clover Creek, at the head of Lake Steilacoom, two miles west of the present town of Lakeview. Later, they moved to a smaller family home near Custer Station on Chambers Creek. ( Fred had filed the township plat for Custer on September 27, 1889. ) Fred died on June 23, 1911, at the family home and was buried in the Steilacoom Cemetery on June 25, 1911. Agnetta died December 24, 1911. After more than two and one half years, and a dispute between Fred Meyer's children and the children of Agnetta Larson Chambers, Fred's remains were removed from the Steilacoom Cemetery and moved to the Old Settlers Graveyard near Gravelly Lake.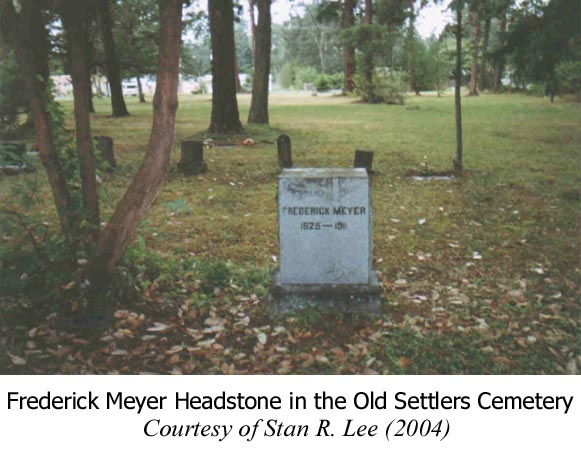 1903 Published Account of Frederick Meyer's life
Federal Census : 1860, 1870, 1880, 1900, 1910
Land Claims: Bureau of Land Management - General Land Office Records
State County Issue Date Land Office Doc.Nr. Accession/Serial Nr. Longitude/Latitude

WA Pierce 8/31/1889 Seattle 10512 WASAA 078746
WA Pierce 12/15/1880 Olympia 565 WAOAA 071226
WA Pierce 10/13/1891 Seattle 80679 WASAA 064524
WA Pierce 3/1/1879 Olympia 952 WAOAA 075117
Related Links: Steilacoom, Custer and Lakewood
If you should have information concerning Frederick Meyer, Frances Louise or their children, please contact us.
Information on this page was obtained from Stan and Phyllis Greenlaw, (July 5, 1996 ), Stan R. Lee (2004, 2005 and 2006) and Bill Turner (2006).

Message from OurFamilyStories.com: The information and data provided in this website, that hasn't been identified as belonging to others, is to be used for personal NON-COMMERCIAL purposes only. It is not to be reproduced in any form for commercial or profit purposes without the express written permission of OurFamilyStories.com.
Copyright ©1995, 2006. OurFamilyStories.com. All Rights Reserved.
Your comments & suggestions are always welcome.
Last Updated 9 September 2007