Our Family Stories
Amos Greenlaw: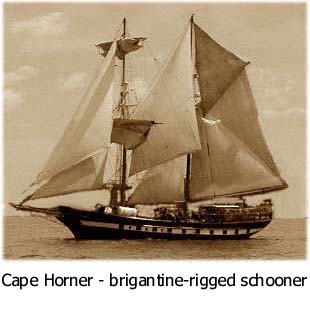 Ship's Owner/Captain, Sawmill Owner, Farmer and Community Servant
June 26, 1837 - December 28, 1895
Amos Greenlaw was the son of Captain Isaac Case Greenlaw and Mary Bartlett. He grew up in two worlds and two countries. His mother's family operated various types of water-powered mills and his father was Master of his own ship. Other Greenlaw family members had become timber men in both Maine and New Brunswick, Canada and supplied trees to mills in both countries. Amos learned to successfully operate a saw mill and became Master of his own ship at an early age.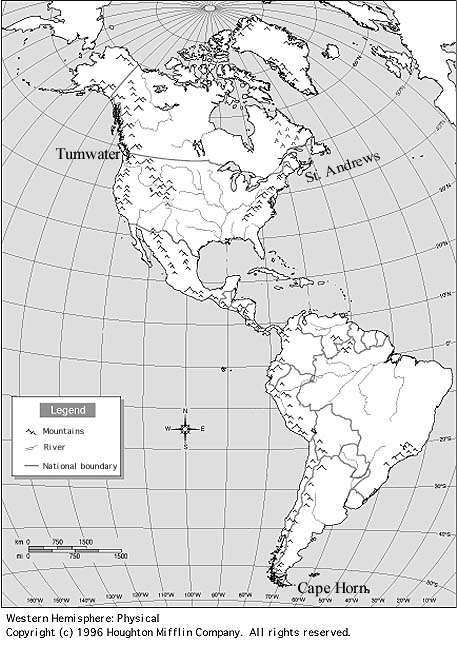 At age 23, Amos equipped with several complete plans for various types of houses, loaded sawmill equipment onto his ship, most likely a brigantine-rigged schooner, commonly known as a Cape Horner. He sailed from Maine in 1860 with his wife, the former Gertrude Giles, around Cape Horn and up to Puget Sound finally reaching the town of Tumwater, Washington Territory at the mouth of the Deschutes River more than four months later. Settlers had come to the Deschutes as early as 1845, to exploit the power of the falls at the river's mouth.
After off-loading the mill equipment, Amos setup a water-powered sawmill in association with David A. Rice. Mr. Rice came to the area several years earlier. He settled in Arcadia, Mason county and controlled large tracks of timberland in both Mason and Thurston counties.

One story told about Amos' time in Tumwater relates that Amos had a steam winch on his ship that was used to load cargo onto and off the ship. He took the winch off the ship and attached it to a skid or sled. This arrangement became known as a "Steam Donkey". He then used the winch to move logs and lumber around the mill site. Using his "Yankee Ingenuity", his operation became much more productive than the other mills along the falls. Eventually, his ship was loaded with lumber and beef and Amos sailed to San Francisco, where he sold the ship and its cargo. After returning to Tumwater, he ran the sawmill for several years. A story relates that his competitive edge was selling a number of different complete "New England Style House" kits to the newly arriving settlers.

According to 1870 Federal Census Records, Charlotte Greenlaw was born in Washington Territory sometime in 1864. Amos sold the mill and moved with his daughter, Charlotte to Pierce county, Washington. No information has been found concerning Gertrude's fate.
Amos Greenlaw and Alice Greigg were married on July 20, 1868, Pierce County, Washington Territory at the home of her father, William Greigg. Amos' friend and business associate, David A. Rice and Alice's sister, Latitia Greigg, acted as a witnesses. Alice's destiny has not been determined.
Amos Greenlaw married Wilhelmina (Willa) Mary Meyer, the daughter of Frederick Meyer and Frances Louise Relyea, on March 16, 1870.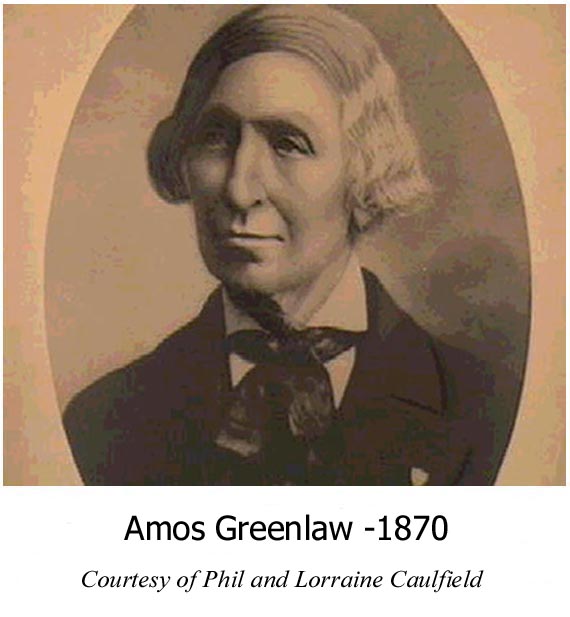 Amos, Willa and Charlotte settled on 160 acres from the Brown donation claim. Amos and Willa would have ten children, namely: Mary, Lustrous, Nettie, Amos, Ruby, Leonard, Loren, Cyrus, John and Minnie.

Amos took an active role in the Spanaway community, even becoming a member of the local school board. He would continue to live on the land until his death on December 28, 1895.

Photograph of Greenlaw Farm -Frederickson (Courtesy of James Clark and Stan R. Lee)
Additional information available at websites below:
Amos' Marriages

Amos and Wilhelmina's Children

Personal Reflections

Western Washington Map

Western Hemisphere Map

Sarah W. Vorwerk's Account of Sailing Expeditions to Antarctica and Cape Horn
The information on this web site is for your personal use only. All pages, compilations, transcriptions and abstracts are protected by copyright law and may not be copied in whole or in part and published or distributed in any manner without written consent of the author, contributor and/or webmaster.
Message from OurFamilyStories.com: The information and data provided in this website, that hasn't been identified as belonging to others, is to be used for personal NON-COMMERCIAL purposes only. It is not to be reproduced in any form for commercial or profit purposes without the express written permission of OurFamilyStories.com.
Copyright ©1995, 2003. OurFamilyStories.com. All Rights Reserved.
Your comments & suggestions are always welcome.
Last Updated 28 August 2007